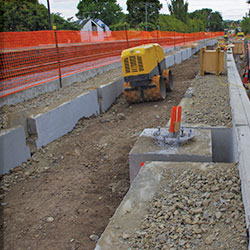 The Stone Strong system is built around cost effective construction of vertical and near vertical structures such as retaining walls, bridge abutments and approach embankments, process plant and quarry dump walls, freshwater and marine wharf, retaining and erosion structures, stream bank protection and channel works and for all other applications where rapid modular construction and the ability to carry substantial dead and live load surcharges are required.
Depending on geotechnical conditions and loading requirements the system offers gravity retaining solutions in excess of 5 metres high. Additionally, the use of conventional polyester and HDPE geogrids as well as Steel strip and combinations of buried or drilled anchor and tieback solutions allow for MSE walls upwards of 20 metres high with substantial operational and live load surcharge capacity.
We have access to high quality local formwork manufacturing and will modify and/or build bespoke block work forms for site specific or one off engineering applications as required. Local development of block liners is also undertaken.