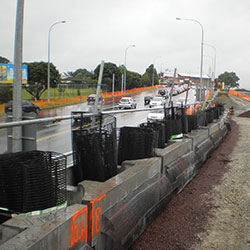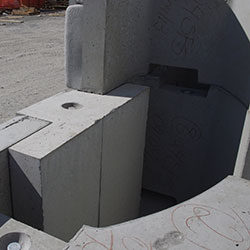 Stone Strong MSE reinforcement includes a range of frictional and positive connection polyester and HDPE geogrids (Miragrid & Tensar) as well as Paragrids, Paraweb, steel strip and steel ladder reinforcement.
Polyester and HDPE geogrids are used in frictional backfills, temporary retaining walls for plant access, where the specifying engineer has a preference for geogrid style reinforcement or where available backfills suit this reinforcement solution.
HDPE geogrids can be locked into the top of 24SF block voids using compacted aggregate (usual temporary solution), used with channel connectors to provide for a 100% positive connection within cast in channels in the Stone Strong block top edge or cast integrally into the block back face and field installed using bodkin connectors.