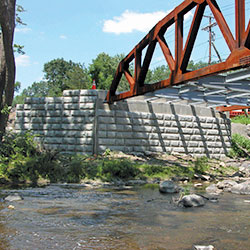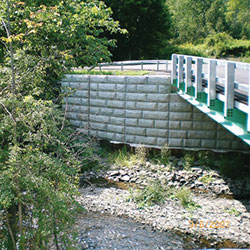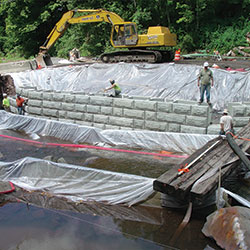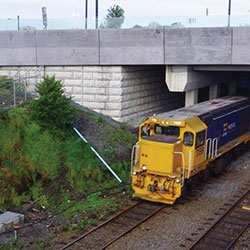 Stone Strong block abutment systems are suitable for both shallow foundation and piled bridge foundation design. Bridge abutments can be designed to accommodate bridge deck and beam loads at either pier cap level or loads can be transferred down through the structure to a shallow foundation at ground level. The Thru Pile block system can allow for bored pile diameters between 900mm and 1500mm OD and the system can also accommodate alternative top and bottom driven pile solutions. Bridge abutments and approach embankments can be constructed ahead of bridge construction, allowing for abutment works to be carried out at "finished grade" level.
Bridge abutments can be designed as staged construction elements, allowing for new bridge construction under live rail and live road conditions.
Abutments can be built ahead of time and with suitable block detailing allowed to settle as part of preloading requirements or similar. Abutments can also be constructed on various forms of ground improvement such as vibro compaction, stone or sand columns, soil/cement columns with the overall bridge abutment designed as a shallow foundation allowing for cost savings on piling.