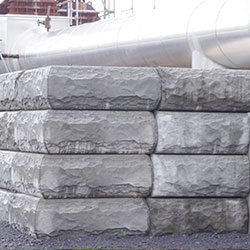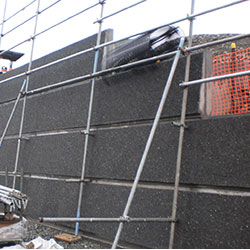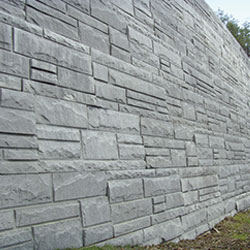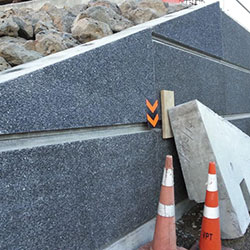 Several regular block patterns are available including the standard split granite pattern using nominal 460mm vertical dimensions and a smaller Adobe pattern small block pattern using 230mm block dimensions.  Plain face blocks are also available as a standard product.
However, almost any non standard pattern is readily available – as long as it can be cast in concrete, it can be to built into the block front face.  Exposed aggregate, color oxides and post cast staining can all be used to provide specific landscaping or urban architecture requirements.
Patterns can be designed to extend over several block faces both vertically and horizontally. If necessary, a standard utility face can be used to build a retaining structure and tilt slab panels subsequently placed in front to accommodate highly specific architectural requirements; tilt slab panel connections can be built into stone strong blocks as needed.